They release a video calling for the rescue of this emblematic species
Baja California Sur. While at some point the peninsular pronghorn had tens of
thousands of specimens throughout the geography of what is now the two Californias,
the species has reached a critical state with only 500 specimens living under strict
protection from environmental authorities. .

Of 175 that were detected when an extinction alert was declared for the species in 1998,
there are now 523, in 2020. This species, confirmed in danger of extinction in 2019,
currently inhabits more than 35 thousand hectares registered, with a mesh tested from
any invasion, be it human hunting or animal predation.

The peninsular pronghorn (Antilocapra americana peninsularis) is the only hoofed animal
that is in critical condition. Research regarding its population size established that in
1815 more than 45 million individuals inhabited California and part of the Central
Highlands region.
The biologist Carlos Aguilera made a video reporting on the critical situation that the
Peninsular Pronghorn is experiencing, where he shows images of the conservation
efforts carried out in the "Valle de los Cirios" reserve, to the north of the peninsula where
they border Baja California and Baja California Sur, where the National Commission of
Protected Areas together with various civil associations, such as Espacios Naturales y
Desarrollo Sustentable AC. Endesu, and the United Nations Development Program, as
well as a private initiative, join forces to help create conditions for the reproduction of the
species.

"The peninsular pronghorn is one of the oldest mammals in the Americas, it has been
here for more than 20 million years. But today, its history depends on us ", expressed
Carlos Aguilera.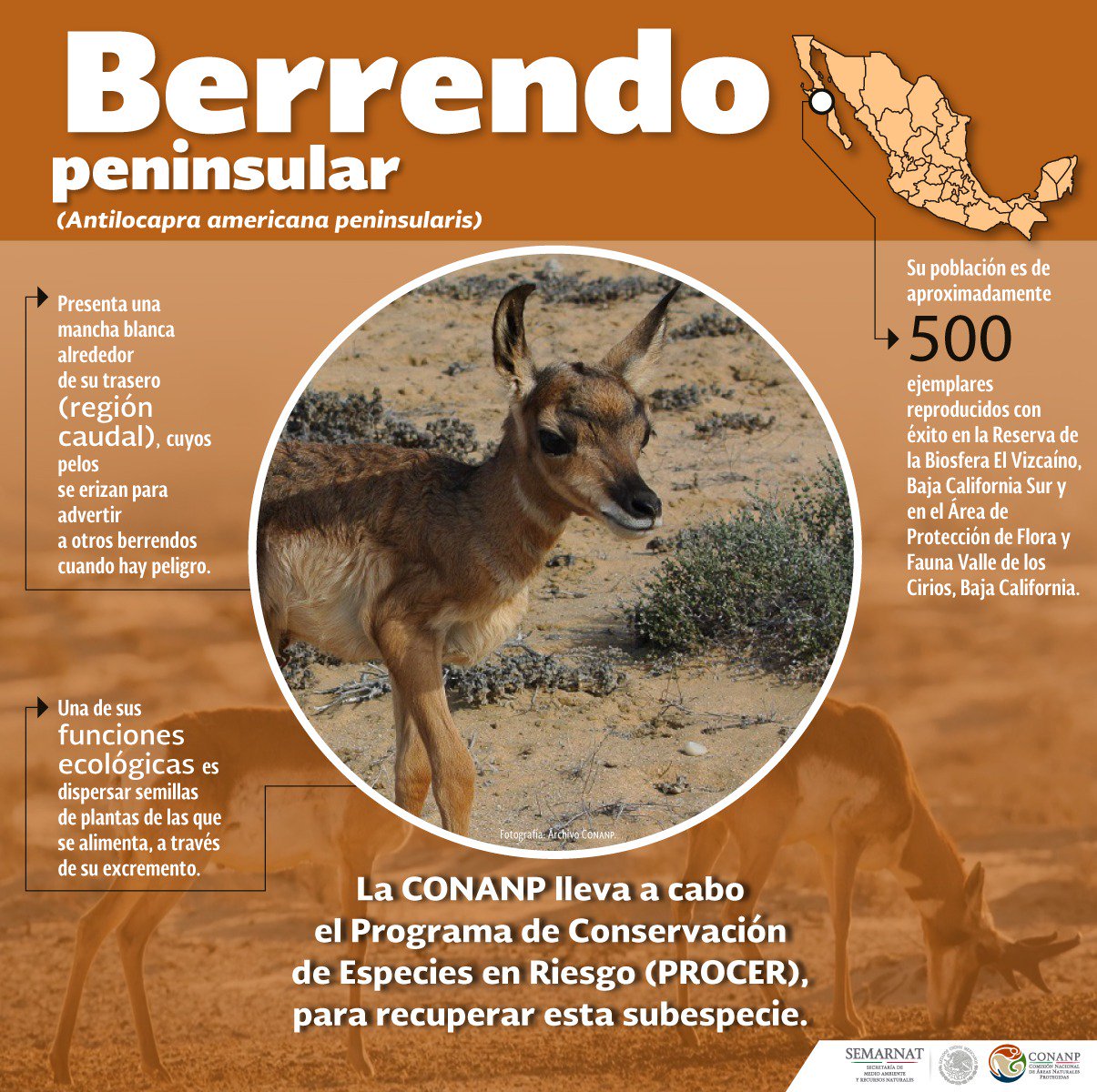 Benefits for the ecosystem
For the arid areas where the pronghorn lives, this species is like a great farmer because the shape of its hoof simulates a plow.

Every time it leaves excreta, where you can find some seeds of the herbs that the animal consumes, it does so right where there is a trace of its footprint, an area in which it also leaves a dose of urine.
This species of pot is hydrated with the dew that comes from the Pacific Ocean and the Sea of ​​Cortez and has a high probability of giving as a result a new plant that will not only serve as food for the pronghorn but also for other species.
Through photo-trapping, a system of photographic and video cameras activated by movement that some ejidatarios have installed, it has been possible to verify the existence of species such as the desert fox, the quelele, the eagle, the hawk, the quail, the roadrunner, the mule deer, the hare and the coyote. Everyone can access the drinking troughs and feeders that the ejidatarios have built.
"We gave ourselves to the task of permanently bringing him liquid, every day we traveled to the Mataranchos ejido so that these animals were benefited because they are also part of the wild fauna", explained Héctor Montaño, resident of the Mataranchos Ejido, in Mulegé, Baja California Sur
Source: imagenagropecuaria.com, mexicoambiental.com