Tour the amazing historic center of Compostela, Nayarit
Compostela is the third Magic Town of Nayarit. Its full name is Villa de Galicia de Compostela de Indias and it is a city founded in 1530 by Nuño Beltrán. Before, it had been inhabited by the indigenous peoples of the Mazatlan manors.
The name of this Magical Town is due in honor of the city of Santiago de Compostela in Spain, which is why it is considered a real city. This beautiful corner of Mexico has great natural wealth, as there are large green areas, as well as long beaches nearby. It also has historical and cultural monuments of great importance. As if that were not enough, in Compostela, Nayarit several traditional festivals are held.
Get to know this charming city, where the main activities are fishing, agriculture and tourism. The best time of year to visit it is in the months of November and December, as it is when there are more parties and parades.
What to do
Stroll through the historic center. The streets are beautiful and in various corners they sell original handicrafts made from tobacco leaves. On your tour, do not forget to go to the Parish of Santo Santiago Apóstol, the Municipal Presidency or the House of Culture.
If what you are looking for is adventure tourism or if you want to live with nature, then go to the Punta Custodia Natural Park. It is the ideal place for mountaineering, cycling, climbing, rappelling or simply for a picnic.
Also go to Punta Custodia, a beautiful beach 8 kilometers long. You will find delicious sea food, in addition to a pleasant climate. In this paradise you can snorkel, take canoe rides, as well as help release turtles.
Another of the favorite places is the Museum of Compostela. There you will learn all the history of the place and you will observe archaeological pieces of great value. Take advantage of your holidays to expand your knowledge!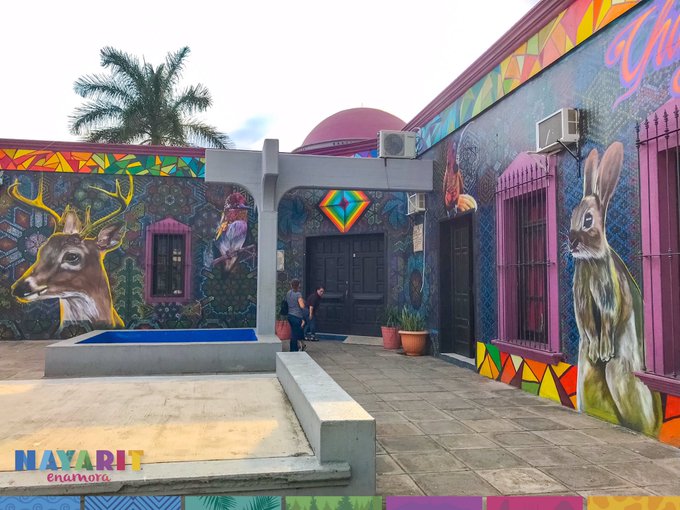 Other places that we recommend you visit are the former Hacienda de la Condesa Miravalles, the Santana and Molinos pools and, of course, the Railway Station.
How to get to Compostela
The closest airport is Tepic which is located 37 km away, however it is also a good idea to get to Puerto Vallarta, which is 132 km away.
If you are in Guadalajara and you use a car, take highway 15D, Guadalajara-Tepic, then exit at the deviation towards Chapalilla and finally towards Puerto Vallarta.
You can also get there by public transport, get on a bus from the Guadalajara or Tepic bus station.